---
| Home | Forum | Socials Page |
---
Ireland Day 4: Here Be Freaks!
Posted by jana on August 24, 2004

This was a real Freak day, which makes it harder to document, at least with any justice. There is always so much going on at a Freak gathering, so many little quirks and jokes, that I can't come close to getting it all down. Because of that, this will pretty much be a bare-bones sketch of the events, and hopefully some of the fun of the day will trickle through. That goes for pretty much the next week's worth of posts, as well.



(You know the drill, the italicized stuff is from my paper journal.)

I had some time to kill this morning, so I took a tour of Dublin Castle. Ran into Brett and Rachel (my hostel buddies), so went through the tour with them. The castle is 18th century, and is pretty much an uninteresting government building with a couple cool pieces of furniture these days. My favorite part of the tour was going underground to see some ruins of the old castle, from the 13th century. That one was destoyed by a fire in the 16th or 17th century. The fun little anecdote I picked up in the tour was that the master of the castle at the time tried to stem the fire by creating a controlled explosion in one of the wings, but ended up just blowing up the rest of the castle instead. Only one of the original towers is still standing.

I had a picture of the tower that I wanted to post, but this computer didn't want me to. I know most people aren't too interested in pictures of buildings, but as these posts are also serving as a kind of scrapbook for me, I would have liked to have it up for my own purposes. Maybe I'll be able to add it later. For now, here is a picture of the statue of justice that overlooks the castle.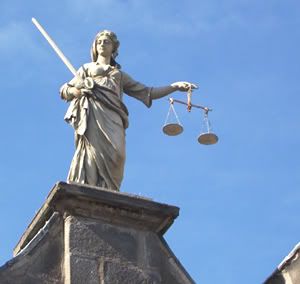 After the tour I called Jeff's cell phone, but he and Julie were still trying to figure out how to get to their hotel (have I mentioned how glad I am that I don't have to drive in Dublin?), and Julie and I had a really bad connection, so I had to hang up without figuring out any kind of game plan. I wandered around and read some (Daggerspell) and called back an hour later. Julie said they'd all be heading to the Bad Ass Cafe soon, so I sat down outside to read some more and wait. I waited for over an hour before I realized they had missed me outside and gone in. Poor Julie the momma duck was a little worried. Their food was just about arriving when I came, but I was able to order and get my own food not too long afterwards. I chatted for awhile, mostly with the gals (Julie and Lee Ann). I was introduced to Julie's sons Alec and Rob. After awhile I realized I hadn't said hello to Jeff, as there was a big pole in between us making it difficult to see him. He quizzed me on what kind of plane I had come in on, but I had no idea. While we were eating Mark (Dublin guy I only vaguely knew about) phoned Julie and said he'd come meet us there. Of course none of us had the slightest clue what he looked like, and he only possibly knew what Julie looked like. After awhile we moved outside to wait for him, and scouted around for likely possibilities. I had my suspicions when a guy came up maybe 50 feet away from us, pulled out a cell phone, and Julie's phone rang. I was correct, but nobody was sure until he was about two feet away from us.

After introductions were made we set off for Trinity College. Mark was supposedly our guide, but I seemed to know my way to the place better. Since I had gone to see the Book of Kells the day before I opted not to pay for it again, and stayed in the gift shop to buy some postcards instead. I bought a bunch, so we could have some to sign and send to the Freaks we had addresses for. After about half an hour or so the others came out. Jennie had called while Julie was in the the Book, and got her in trouble with some lady. She called back awhile later, when Jeff and the boys were catatonic on the lawn outside the Book. We headed over to Jennie and Jani's hotel to meet them. Their room was actually a suite, and quite large. Has a kitchen, dining room, living room, balcony, two bathrooms. Oh, and two bedrooms with four beds. They said I should move in for the night, so I did. After some pictures out on the balcony with a neighboring Elvis, Alle and Julie & family went back to their hotel to get settled in. Jennie, Jani and Mark came with me to get my stuff so that I could check out of the hostel. I made sure to say goodbye to Rachel and Brett so they won't think I got kidnapped or something. After we got back to the suite we had some time to kill, so we taught Mark how to play Phase 10. Didn't have a chance to play all the way through, which was just as well as I was losing horribly.

We met back up with just Julie and Alle (Jeff and the boys fell asleep) and tried to find some dinner. Julie had her heart set on "traditional" Irish food, so we eventually found a place that was close enough.

I think Julie's covered most of this stuff, and pretty much it's all just dumb jokes that we laughed at a lot for the rest of the trip, but they never really got objectively funnier. The scary Brown Sauce at the table was the source of much hilarity. Jani made some really bad Finnish puns, along the lines of "we can't be Finnish, we've only just started!" These continued for the rest of the trip. I eventually embraced them and was cracking them right and left myself. Even Lee Ann gave in. On the whole we were very touristy and obnoxious, not to mention Freaky, and Mark was thorougly embarrassed by the lot of us. Great times.

We pretty much all went our separate ways after dinner. It was only about 9, but everybody besides me and Mark had travelled a lot that day and were tired. Because I hadn't traveled, and had grown completely accustomed to Ireland time, I stayed up and watched a really bad movie on TV. It was called The Hole, and starred Thora Birch, who I usually quite like, and a pre-fame Keira Knightley. Don't waste your time on it. It was bad.