---
| Home | Forum | Socials Page |
---
Ireland Day 2ish: Finally There
Posted by jana on August 20, 2004

Typing from the paper journal:

My plane finally landed in Dublin at around 10:45 this morning. What with waiting for my luggage, taking the bus to the city center, and dragging my suitcase through the city looking for my hostel, I didn't check in until around 1:00. The hostel is a nice rickety old place overlooking the River Liffey. My room is up three flights of curved stairs with cartoony murals painted all the way up. The murals are kind of lame, actually, but they make the place seem cheery and friendly. So far the people who work there all seem to be friendly guys with ponytails and beards. (This turned out to be untrue. It was mostly only those first three guys that had ponytails and beards, I saw other people later.) My room has 15 other beds, so I guess that would make 8 sets of bunk beds. I'm on a top bunk. Below me is an American guy named Brett. On the top bunk nearest mine is Rachel, Brett's travelling companion and presumably girlfriend. She is infinitely more talkative than he is, though he seems friendly enough without saying much. (He actually talked more later, especially when she wasn't around, so maybe she just talks enough for the both of them when they're together.) They've been travelling around for seven months, but will go back to the east coast of the US soon.



After arriving at the hostel I called Ulrica, after enlisting the help of friendly counter guy #1 to show me how to use the phone. I'll be heading back to the airport tomorrow to meet her when she picks up her parents. It's just as well I didn't meet her today, because after a quick shower (the water turns off automatically every 30 seconds or so, so you have to keep pressing the button to get more), I crashed for a good couple of hours. When I woke up I set out to just wander around Dublin. I found the Bad Ass Cafe and figured out walking directions to it for Julie & family and Alle. (This turned out to be unnecessary, as Alle found it herself.) As I was walking through Temple Bar (trendy district in Dublin), three different guys canvassing for some relief organization stopped me separately. After hearing my accfent they realized I couldn't help, as they were looking for citizens of Ireland, but two of them talked to me for awhile anyways, one asking about my trip and the other just telling me about the organization. I enjoyed it, because as a tourist I like it when people are friendly and talk to me. They were also cute boys with Irish accents, so that helped.

Traffic is kind of crazy here. It seems rather haphazardly organized, in a chaotic kind of way. The amount of pedestrian traffic is huge. I'm not used to jaywalking en masse. I'm glad I don't have to drive here. I never even really got used to driving in downtown Portland.

I wrote that while sitting in St. Stephen's Green, a popular park near Grafton Street in Dublin. There's a big pond in the middle of it, and lots of trees and nice lawn areas. There's always a lot of people around, but it's nice to be away from the cars and buildings of the city, and it manages to be at least somewhat peaceful even though it's crowded.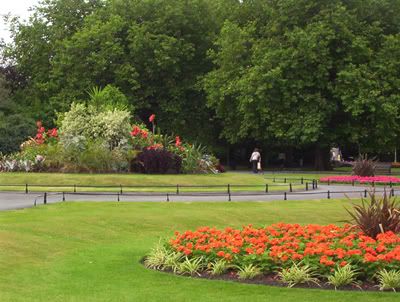 I don't think I did much else that evening. Had some lovely and cheap tomato soup in a pub, and watched some American TV in the basement of the hostel. Went to bed early, as I was still tired from my flight.

Stay tuned for Day 3 and the first Freak appearance of my trip